Fri., Oct. 22, 2010, 1:35 p.m.
ITD Agrees w/PETA Re: Warning
How often do you see PETA and the Idaho Transportation Department in the same sentence, let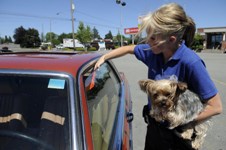 alone the same news story? People for the Ethical Treatment of Animals regularly lobbied the ITD regarding the issue of leaving animals in hot cars, and earlier this month, Edward Pemble, ITD's driver services manager informed the activist group that a warning will be added to the Idaho driver's manual about the danger of leaving cats and dogs in parked cars. "Death from heatstroke is slow, agonizing and terrifying," said PETA vice president Daphna Nachminovitch/George Prentice, Boise Weekly. More here. (SR file photo: Officer Ashley Brown of SCRAPS puts a notice in a car after she freed the yorkie from the parked car in front of Valley Village in Spokane Valley this summer.)

Question: Do you take your dog with you when you're traveling somewhere? What do you do with your dog when you have to stop somewhere to shop?
---
---