Fri., Oct. 22, 2010, 11:51 a.m.
Palin Lauds Otter's 'Conservatism'
"As a proud Vandal grad who was born in Idaho and still has plenty of Idaho family roots, I'm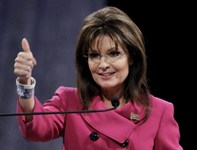 honored to endorse Butch Otter for governor of the Gem State. Whether serving in Congress or the governor's office, Butch has been a voice for 'common-sense conservatism.' He's been a strong advocate for fiscal discipline and energy independence. As governor of Alaska, it was a pleasure working with Butch as both our states bucked a growing federal government power grab in disregard of the Tenth Amendment. Butch has served Idaho with distinction as governor, and Idaho can't go wrong re-electing him this November"/Kevin Richert, Idaho Statesman. More here.
Question: Does Sarah Palin's endorsement sew things up for Republican Gov. Butch Otter?
---
---