Fri., Oct. 22, 2010, 5:09 p.m.
Revenuers Shut Down Pumpkin Stand
The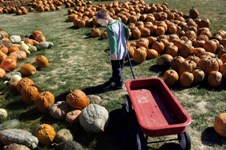 Idaho State Tax Commission has called for the closure of a family's pumpkin stand on the 1000 block of Eighth Street in Lewiston. A representative of the tax commission stopped by the home of Dan and Kami Charais Friday and asked for the stand's closure. The Charais' 4- and 6-year-old children are operating the stand to raise money for school sports. The tax commission representative who stopped by the home said she was not at liberty to talk about the incident when reached by phone this afternoon/Lewiston Tribune. More here. (AP photo for illustration purposes) H/T: Lew2NL.

Question: How come the Idaho State Tax Commission has time to shut down a kids' pumpkin stand when it can't seem to close the loopholes in sweet deals for major corporations?
---
---