Fri., Oct. 22, 2010, 12:53 p.m.
'Rocky Horror Show' Hits Missoula
Montana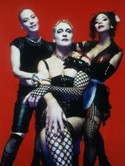 Actors' Theatre is doing the Time Warp again ... again. For two nights this weekend, the local troupe of thespians will once again don fishnets for the return of "The Rocky Horror Show," the risque rock 'n' roll musical comedy that proved a smashing success for the company last year over Halloween weekend, filling the 1,100-seat Wilma Theatre for four performances in two nights. While encore productions often prove risky in the theatre world, this one should be a no-brainer. After all, "The Rocky Horror Show" owes its enduring popularity to repetition and familiarity as much as to its content/Joe Nickell, Missoulian. More here. (AP Photo: Joan Jett, left, Tom Hewitt, center, and Daphne Rubin-Vega, stars in "The Rocky Horror Show" pose in a 2000 promotional photo.)
OrangeTV: I went for the first time at the Magic Lantern when I was 12 and won the "best virgin" contest. I probably went back 60-70 times after that. It was one of the most fun and entertaining things to do on the weekend in Spokane, and I was sad when they quit showing it every Friday and Saturday at midnight. Since then, I usually catch it 2-3 times every Halloween. It's a true classic that I don't think I'll ever tire of…
Question: The popular TV show 'Glee' is also airing an episode on the 'Rocky Horror Show' soon. I've never seen it. Have you? Are you a fan?
---
---