Mon., Oct. 25, 2010
I've Just Become A Detroit Piston Fan
I'd wager that not many people around the country followed the NBA's preseason.  If you have,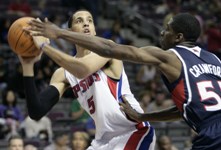 however, you would have known that one of the most impressive players in the entire league was former Zag, Austin Daye.  Daye has been sensational in his second year with the Detroit Pistons, doing a little bit of everything and showing great improvement from his rookie season.  He averaged 15 points and five boards a game for Detroit and has impressed the Pistons so much, that he will open the season as their starting power forward/Zach Bell, SB Nation. More here.
Cutline: Detroit Pistons' Austin Daye (5) looks for a shot against Atlanta Hawks' Jordan Crawford in the second half of an NBA basketball game last Monday in Auburn Hills, Mich. Daye scored 14 points in the Pistons 94-85 win. (AP Photo/Duane Burleson)

Question: With Rodney Stuckey, formerly of Eastern Washington at guard, and now Daye at forward, is it high time for Inland Northwesterners to become Detroit Piston fans?
---
---