Mon., Oct. 25, 2010, 2:54 p.m.
OTV: Stay In (And Order Pizza)
For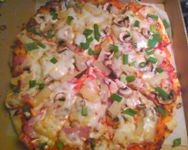 just this week I'm changing the name of this column from "Get Out" to "Stay In" and covering something I rarely get a chance to talk about: pizza delivery. It's the perfect solution to lunch or dinner during times of inclement weather or just times when you just plain can't muster enough get-up-and-go to fix your wig and make a public appearance. Our area has no shortage of pizza places that will come knocking on your door in (hopefully) speedy fashion with a (hopefully) piping hot pizza pie for a (hopefully) relatively small amount of cash/OrangeTV, Get Out! North Idaho. More here.
Question: How often do you order through a parlor that provides delivery service? Is there a pizza biz that provides better service than the others?
---
---