Mon., Oct. 25, 2010, 4:36 p.m.
State Studying Pumpkin Stand Sanfu
The Gem State made national news over the weekend after a staffer for the Idaho State Tax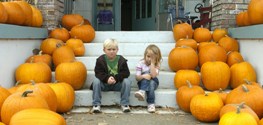 Commission attempted to shut down a pumpkin stand being manned by two children in Lewiston.  Monday, a spokesman for the agency wouldn't comment on the incident, but did say that administrators will be reviewing the situation to determine if the staffer acted appropriately. Dan John, spokesman for the commission, told IdahoReporter.com Monday that he had no comment on the action of the staffer.  When asked if any formal complaints had been filed in the case, John said "not that I know of, but I really can't comment on it at this time."  Though no official action has been taken against the staffer, it hasn't necessarily been ruled out.  "When we get allegations, we always check them out," John explained/Dustin Hurst, Idaho Reporter. More here.
Cutline: Jacob Charais, 6, and his little sister Sami-Lou, 4, sit in front of their pumpkin stand at their home in Lewiston, Idaho on Friday (AP Photo/ Lewiston Tribune, Kyle Mills)
Original: Tax revenuers shut down pumpkin stand/Lewiston Tribune

Question: Should the state reprimand the staffer who bought the Tax Commission a million dollars in bad publicity for the sake of collecting $10 in taxes?
---
---