Wed., Oct. 27, 2010
Pumpkingate Mom Tells Family Side
The stand, which she said is not actually roadside but rather only around the front of the family's home, had mediocre success until a reporter from from a local television station, KLEW,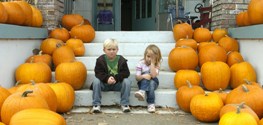 stopped by to set up a time later in the week to profile the stand for a human interest piece.  Charais said the family contacted the supplier of the pumpkins, a family friend, to ask for a few more gourds to provide a better image for the cameras.  The story, which can be seen here, showed up on KLEW's website Oct 19. A week later an unnamed staffer from the Idaho State Tax Commission stopped by the house. Charais said she asked the staffer, who didn't identify herself in initial contact, if she had seen the news story and if she wanted to buy a pumpkin.  The mother said the staffer replied, "'Do you know you're running an illegal operation here?'"/Dustin Hurst, Idaho Reporter. More here.
Cutline: Jacob Charais, 6, and his little sister Sami-Lou, 4, sit in front of their pumpkin stand at their home in Lewiston on Friday. (Lewiston Tribune/AP Photo: Kyle Mills)

Reaction?
---
---