Fri., Oct. 29, 2010, 3:40 p.m.
Dogwalk: Campaign By Assassination
I've seen these signs around brilliant red northern Idaho and wonder if the Republicans are so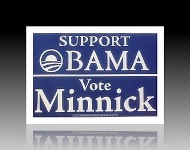 worried about their candidate losing they have to stoop to this. Or do the Democrats have a death wish? Curious, I asked a friend who is a mover and shaker with the Dems and was advised to note the sponsoring name on the poster. Hmmm. Seems the name is that of a VP of the Reagan Republicans! Whether or not his organization gave it's blessing is something I don't know. He certainly has the right as an individual to do as he pleases. If it's a personal issue or a party issue, the party is tarred with it/Dogwalk Musings. More here.
Question: Have you decided whether this is a clever idea or a dirty trick yet?
---
---