Fri., Oct. 29, 2010, 3:45 p.m.
Post Falls Police ID's 2 Bodies
Police have identified two people who were found dead inside a Post Falls home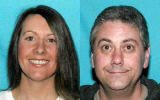 Thursday evening. Christina K. Mandriguez, 38, and Jeffrey A. Hayes, 54, each died of a single gunshot wound to the forehead in a homicide/suicide, said Post Falls Police Chief Scot Haug. The couple's landlord found Mandriguez's body around 5:15 p.m. and called police. Investigators found her slumped up against the front door, with a cell phone in her hand, Haug said. Hayes was found a few feet away in a hallway. A Glock handgun was between the two bodies/Chelsea Bannach, SR. More here.
---
---