Fri., Oct. 29, 2010
Viks Score In last Minute To Nip LCHS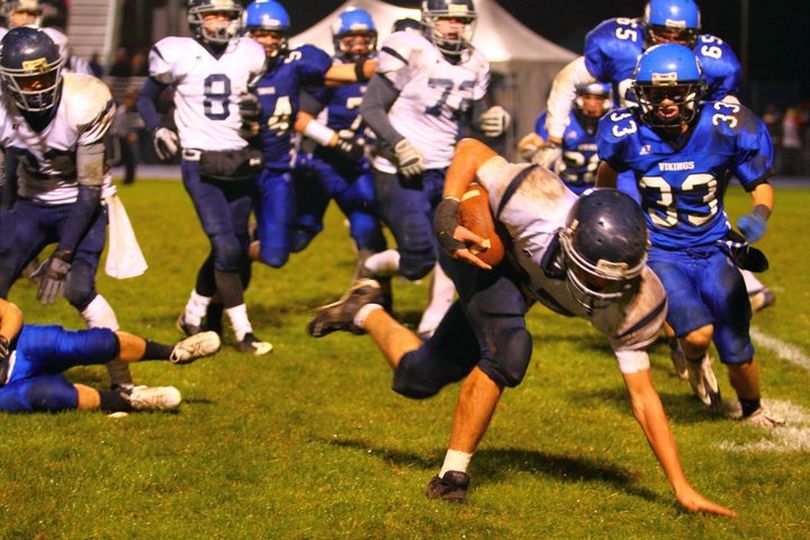 On Rocky Castaneda's Facebook page, Rocky identifies the Lake City players in this photo as (from left): : Colton Carlson, Robbie Quinn, Simon Gookin, Allen Carmichael (photos).

At first it looked like there was no doubt the rematch would be at Coeur d'Alene, at least until the second half when it appeared the game would have to move west across Highway 395. Then CdA junior quarterback Chad Chalich engineered a six-play, 71-yard drive in the final 94 seconds, capped when Actually, less than a minute elapsed when Connor Harris slipped two tackles after running a little drag route across the field and turned it into a 28-yard touchdown down the left sideline with 43 seconds to play. ... That he did, completing 25 of 38 passes for 258 yards and three touchdowns. But after the top-ranked Vikings (8-1, 3-0) controlled the game and built a 13-0 halftime lead, the Timberwolves (6-3, 2-1) reversed things/Dave Trimmer, SR. More here.
Meanwhile, in Post Falls, the homestanding Trojans walloped Lewiston 39-14.
Question: Isn't it ridiculous that two good teams like Coeur d'Alene High and Lake City High have to play again in the first round of the playoffs, which means one will not move on to challenge southern Idaho teams?
---
---