Sat., Oct. 30, 2010, 6:15 a.m.
Bloggy Goes North To Alaska, Day 4
Whitehorse, Yukon Territory to Anchorage, Alaska
Oh glorious day. Finally, a day in which Mr_Bloggy and his Travelnatrix got along and had fun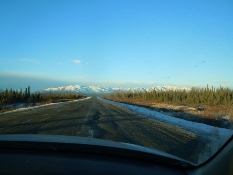 viewing the amazing mountains and lakes and rivers and more mountains and more rivers and a huge glacier and more mountains and a stunning panoramic vista of more mountains, rivers, and the sun peering through wonderful snow clouds like a flashlight through a 10 year old's bedspread. It was delightful and a bit awe-inspiring, especially the 46 mile long Kluane Lake in the Yukon Territory. Mind blowing, other-worldly scenery – it's hard even for a wordy SOB like Mr_B to summarize in a pithy travelogueish way, but suffice it to say that North Idaho's bests (CDA, Pend Oreille, Priest) pale in the majesty of this lake and the surrounding mountains and forests/Mr_Bloggy (More: "Journey to the North -- Fait Accompli").
Question: Which country have you seen that you'd rate higher that North Idaho's bests (CdA, Pend Oreille, & Priest)?

---
---