Sat., Oct. 30, 2010, 6:21 a.m.
Early Ballot Opening Could Skirt Law
County clerks across the state are opening absentee ballots early despite state law that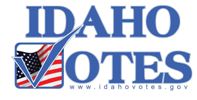 apparently bars doing so. On Wednesday, Deputy Secretary of State Tim Hurst told clerks they could open ballots early; clerks wanting to cut the election-day workload and to have time to flatten the folded papers before running them through optical scanners on Tuesday had asked for permission. Creased ballots pass through scanners slower and can jam the machines, said Ada County Election Supervisor Jo Spencer. Hurst advised clerks, in an e-mail, to figure how long opening ballots would take and begin opening that period of time before Tuesday/Jay Patrick, Idaho Reporter. More here.
Question: Should county clerks be allowed to open absentee ballots early?
---
---