Sat., Oct. 30, 2010, 6:20 a.m.
SpokaneDiveBars Review: Shanty
If you want Hilarity mixed with a little horror, take the post falls exit off of I-90, take a left and go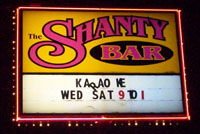 about 2 miles west on Seltice Way and although it may seem to be in the middle of nowhere, on the right hand side next to a 400 sq. foot bungalow will lie The Shanty Bar. You can tell immediately that you have arrived at the correct place due to the fact that you are now parked in a gravel lot and the billboard will have about 12 misspellings and or missing/barely hanging letters. This is North Idaho at its finest/SpokaneDiveBars.com. More here.
Question: Have you had the courage to drink at The Shanty or The Grail in Huetter? And/or: Which is the worst dive bar in the Inland Northwest?

---
---