Mon., Sept. 13, 2010
Blanchette: Cult Of Pete Gains Backers
Now on sale at the Seattle Seahawks team store: khaki pants and rumpled navy hoodies,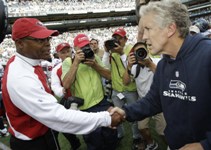 essentials from The Pete Carroll Collection. Got to beat that old Pork Chop Womack replica jersey you used to wear on Sundays, right? Does it ever. Beats it badly. Just the way the San Francisco 49ers were beaten Sunday in the Seahawks' 35th season opener, a turn of events few outside of the war room down at the team's Renton headquarters saw coming. Despite playing the fashionable pick to win the NFC West – if there is such a thing as fashionable in that Village of the Damned – and running exactly four offensive plays the first quarter, the Seahawks rolled 31-6 and 67,044 at Qwest Field rocked/John Blanchette, SR. More here. (AP photo/Ted S. Warren: Pete Carroll shakes hands with 49ers coach Mike Singletary after the Seahawks dismantled San Francisco 31-6 Sunday.)

Question: Are you ready to jump on the Pete Carroll/Seattle Seahawks bandwagon now?
---
---