Wed., April 13, 2011
Sexual Assault At Denver Airport?
Most travelers likely consider airports to be safe spaces, but that sense of security could shaken for some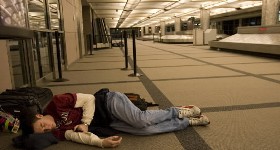 after a disturbing report out of Denver. Denver's KUSA Channel 9 reports: "Police say they have arrested a 26-year-old man accused of sexually assaulting a woman at Denver International Airport early Tuesday morning. Denver Police say Noel Alexander Bertrand faces charges of felony sexual assault." The alleged incident is said to have happened late-night in an empty terminal area. The victim says she was connecting via Denver and decided to spend the night in the airport after missing the last flight of the day to her destination/Ben Mutzabaugh, USA Today. More here. (AP file photo of man sleeping in Denver airport concourse during snow storm)
Question: Have you ever had a problem at the Denver airport?
---
---