Thu., April 14, 2011, 10:30 a.m.
McEuen Price Tag: $23.7M To $27.9M
The upgrade of McEuen Field name has a price tag -- between $23.8 million and $27.97 million -- with the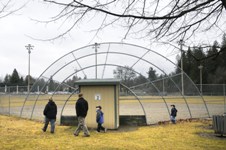 possibility that the high end of those numbers could increase to almost $40 million, depending on embellishments. The cost estimate for parking, for example, is $7 million to $8.3 million. But another $5.5 million could be added to that estimate if the City Council decides to go ahead with a third-level to parking on north side of Front Street that would replace the large 3rd Street lot. Also, the cost estimates include $2.3 million to $2.7 million to replace the boat launch with one at Silver Beach and $1.8 million to $2 million to build a state-of-the-art baseball stadium for the American Legion elsewhere. Parks Director Doug Eastwood estimated the additional maintenance and operation costs at $24,000 per year. You can see the cost estimates for the McEuen Field upgrade here. And for maintenance and operation here. (SR file photo)
Reaction?
---
---