Fri., April 22, 2011
Johnson Post: Cuba … Isn't It Time?
Former President Jimmy Carter and his wife Rosalynn recently made their second trip to Cuba. Carter also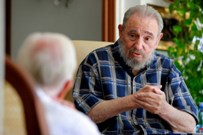 went in 2002. Both trips, undertaken as a private citizen (but no former president is really a private citizen), were designed to try and move U.S – Cuba relations in a more positive direction. Predictably, Carter was immediately denounced as a "shill for Castro" and an apologist for the Cuba government. Such criticism seems to roll of the former president's back like water off a duck and Carter's report on the visit, posted at the Carter Center website, paints a much different picture of what he did and said in Havana/Marc Johnson, The Johnson Report. More here. (AP file photo of Jimmy Carter & Fidel Castro this spring)
Question: If we can restore relations with Vietnam, isn't it time that we did the same with Cuba?
---
---