Fri., April 22, 2011
Turning Off TV Not For Weak Willed
Who doesn't like television? Some love it more than others, but for the most part, we are a TV-grazed society.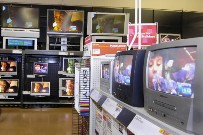 Nearly everyone will admit to watching too much TV, and most of us understand that sitting in front of the tube for hours on end does a lot of negative things to the waistline and little else to our brains. So trying to cut an hour or two out of our daily schedule is a worthy thing to do, but it can be challenging. To turn it off completely for an entire week takes a lot of self-restraint and a lot of planning/Sandra Kelly, Moscow-Pullman Daily News. More here. (AP file photo)
Question: Do you watch too much TV?
---
---