Mon., April 25, 2011
Blog: Do Naked PETA Protests Work?
I know what you're thinking. Nearly-naked women? Animal-print body paint? Soap bubbles. Why wouldn't that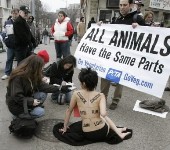 get people's attention? Playboy models pose in a bathtub to highlight the UK's water consumption during PETA World Water Day in March. PETA isn't a stranger to the streets of Seattle. Last year, the animal-rights group staged at least two nearly-naked protests to decry the mistreatment of animals. Both involved young women wearing underwear, body paint and smiles. So, what's the deal?/Amy Rolph, Seattle P-I Big Blog. More here. (AP file photo)
Question: Poster Amy Rolph goes on to wonder whether PETA's nearly naked protests work in bringing proper attention to the animal activists' cause? What do you think?
---
---