Wed., April 27, 2011
No Death Penalty In Plummer Slaying
Benewah County Prosecutor, Doug Payne, will not seek the death penalty in the murder of Antowyn D. Swiney,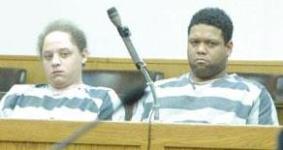 April 17. Mr. Payne filed first degree murder charges against four defendants involved in the murder, which may have been sparked by jealousy. "Based on what I know right now, I don't believe it meets with the statutory criteria," Mr. Payne said of his decision not to seek the death penalty. Jody Miller, Kelly Miller, Irael Kennedy and Stephen Milton drove from Spokane to Plummer the night of the murder. The four left a Spokane bar to make the trip to Plummer several hours after Jody Miller saw seeing Swiney with Miller's former girlfriend/Dan Hammes, St. Maries Gazette-Record. More here. (Gazette photo/Mary Orr: Stephen Milton, 22, and Jody A. Miller, 41, were arraigned at Benewah County Courthouse last Wednesday)
Question: Do you agree with Prosecutor Payne's decision not to seek the death penalty in this murder case?
---
---