Thu., Aug. 4, 2011, 2:20 p.m.
IPT: Speedy's Suicide Wake-Up Call
The sad, tragic suicide of Jeret "Speedy" Peterson last week helped bring attention to an issue that's never pleasant to talk about, but one we can't ignore. It's far too easy to get caught up in the daily challenges and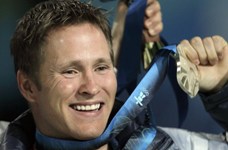 travails of our own lives to notice when those around us are troubled. And when we do observe their emotional struggles, it can be tempting to respond by saying something like, "Hang in there; you'll be OK," or "Yeah, I know, we all have our crap we have to deal with," and then move on. But for some people, what may seem to us like a minor bummer is actually a true time of crisis, and chances are we may not be aware of just how serious it is. Maybe they've had a string of bad luck, and this particular incident is the straw that broke the camel's back/Idaho Press-Tribune Editorial Board. More here. (AP file photo)
Question: Have you ever intervened when you thought someone was contemplating suicide? Want to tell us about it (no names, of course)?
---
---