Mon., Aug. 8, 2011, 8:19 a.m.
Hagadone Home Auction Sept. 8
Duane Hagadone's former Coeur d'Alene home on the hill will be sold at auction next month, if someone is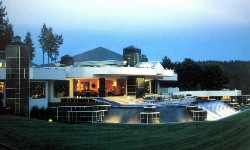 ready to pay $7.5 million or more. That's the starting price listed by J.P. King, a high-end auction house that calls the Sept. 8 auction "an opportunity of a lifetime." Built more than a dozen years ago, the 15,000-square-foot home seems almost modest compared to some other mega-million-dollar estates that have popped up in North Idaho. This house, perched on 15 gated acres on Stanley Hill, features three bedrooms, 10 fireplaces and nine baths (plus a nine-car garage to match)/Tom Sowa, SR. More here.
Question: How much has the valuation of your home gone down since the Not-So-Great Recession began?
---
---