Wed., Aug. 31, 2011
Review: Canton Upgrades Food, Venue
In the comments section of a Yelp review that lists the Canton Restaurant as Coeur d'Alene's best Chinese eatery, OrangeTV writes: "The cosmetic improvements alone make the Canton that I reviewed back then seem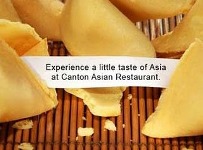 like a dusty old dive stuck in the ruins of some old Chinatown. Changes have been gradual, but Alex and staff have managed to clear up the dinginess that once lingered with simply fresh paint, a bit of modern feeling décor and most likely a lot of elbow grease. The seemingly low turnover level of servers has created a sense of familiarity and friendliness, and I never have to worry about returning late from my break after stopping in for lunch. There's almost always enough time left over to relax and ponder the deep, hidden meaning of my fortune cookie. But really, the most impressive difference at Canton in the last few years has been the noticeable upgrade of the food itself." More here (3 comment).
DFO: I'm glad to hear the Canton has upgraded. It's a special place for my family, once owned by a neighbor on my street. It was the place where my son told us about the young woman who's now his wife of 8 years, lovely Stephanie.
Question: Which INW eatery holds a special memory for you?
---
---