Tue., Dec. 6, 2011
Photo Of The Day — 12.6.11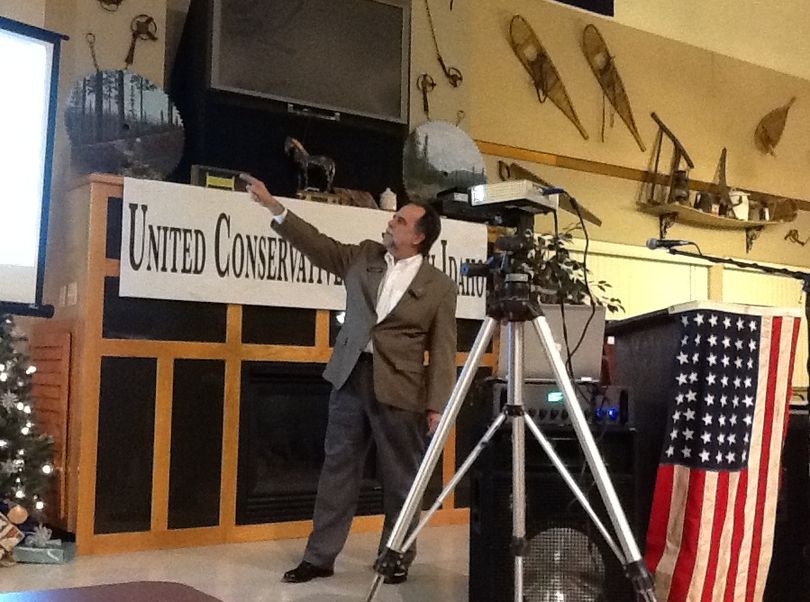 State Rep. Vito Barbieri, R-Dalton Gardens, points out something to the standing-room-only crowd of United Conservatives of North Idaho at the organization's first meeting -- if you don't count its previous incarnation as Rally Right -- last night in Rathdrum. Barbieri plans to push his constitutionally questionable nullification legislation again in the 2012 session. You write the cutline.
Top Cutlines:
1. Vbarb points out Santa's sleigh in midair and stuns the crowd by condemning the Christmas icon as a "morbidly obese, semi-frozen, bearded, hippie reindeer fetishist. Tell this guy to get out of our chimneys and go back to Occupy Wall Street North Pole where he belongs!" -- Hereford.
2. During his presentation, Vito breaks out in "I'm a Little Tea Pot, Here's My Spout ..." -- Dennis.
3. Rep. Vito Barbieri points out just how far right he wants United Conservatives of North Idaho to be -- Terry Harris.
HM: Duroc, Wes, & everyone else. Good job. Particularly liked Hereford using term V-Bard.
---
---