Thu., Dec. 15, 2011, 2:31 p.m.
Report: Most Papers Gone In 5 Years
"Most print newspapers will be gone in five years," says a new report from the USC Annenberg Center for the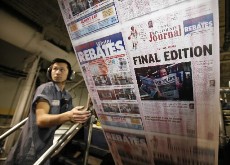 Digital Future. The forecast by center director Jeffrey I. Cole, based on 10 years of studies, says, "America is at a major digital turning point … We believe that the only print newspapers that will survive will be at the extremes of the medium — the largest and the smallest." The New York Times, USA Today, The Washington Post, and The Wall Street Journal will likely survive, along with some local weeklies, Cole writes/Jeff Sonderman, L.A. Weekly. More here. (AP file photo for illustrative purposes: Final edition of the King County Journal rolls off the presses just after midnight in Kent, Wash. Sunday, Jan. 21, 2007)
Question: Are you among those who believe digital media will almost completely supplant print media in five to 10 years? How will that affect your life, if it comes to pass?
---
---