Fri., Dec. 30, 2011
Lewiston Sears Among Closures
The Sears store at Lewiston Center Mall is on a list of 79 Sears and Kmart stores that will be closed in 2012.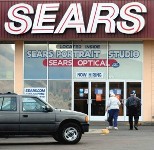 Store officials weren't authorized to comment regarding the number of employees affected or the closing date. Inquiries were referred to corporate media representatives, who did not return calls. A company spokeswoman told The Associated Press each store typically employs 40 to 80 peoplle. The Sears store in Walla Walla was also on the list. Florida was the hardest-hit state, with 11 store closures. Ohio, Michigan and Georgia each had six stores on the list. Additional closings are expected. Sears Holdings announced Tuesday that a total of 100 to 120 under-performing Sears and Kmart stores will be shuttered/William L. Spence, Lewiston Tribune. More here. (Lewiston Tribune photo: Steve Hanks)
Question: How often do you shop at the local Sears and/or Kmart?
---
---