Wed., Feb. 2, 2011, 5:23 p.m.
Road-Kill, Anyone?
I've never knowingly eaten roadkill. That's the first reason Catherine Price's column in Slate about eating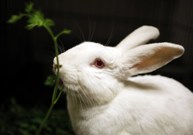 road-kill rabbit caught my eye. The second was the location of said road-kill -- on a road in my childhood home town of Gridley, Calif., a spot along the Highway 99 between Chico and Marysville. Or Biggs and Live Oak, if you're a northern California junkie. Writes Price: "It really was a good-looking rabbit. Shiny coat, sleek body, glassy eyes—only its mangled back leg hinted at its violent cause of death. My husband Peter and I had come across this rabbit on a trip to a bird sanctuary in Gridley, Calif. It was lying in the middle of a narrow country road, stretched stiffly across the pavement; Peter swerved slightly to avoid its body." You can read the rest here. (AP file photo for illustration purposes)
Question: Have you ever eaten road-kill? Would you?
---
---