Thu., Feb. 3, 2011, 10:07 a.m.
2nd McEuen Field Meeting Tonight
Tonight is the second public presentation on the park's conceptual plan, which will detail 24 itemized enhancements with the project. But since the plan went public a little over a month ago, some of the most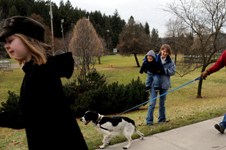 polarizing input has been on the controversial suggestion to swap the city launch with one about a mile away near North Idaho College. "We're getting lots of written comments on the boat launch," said Dick Stauffer, Team McEuen designer who helped craft the overall plan. "It was expected." Meanwhile, Team McEuen is crunching the numbers on survey results still coming in. The group is nearing 1,000 written and online surveys submitted, with an approval rating on the scope of the project around 65 percent, Stauffer said/Tom Hasslinger, Coeur d'Alene Press. More here. (SR photo: Kathy Plonka)
Question: Which of the contoversial elements of the Team McEuen plan bothers you most -- moving the boat launch, moving the American Legion field, changing Tubbs Hill?
---
---