Thu., Feb. 3, 2011, 9:53 a.m.
Cindy: Panhandler Invades My Space
He seemed earnest and sincere. Big brown eyes peered at me beneath dark bangs that needed a trim. His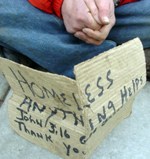 relatively clean black and white plaid coat matched his black jeans and Converse tennis shoes. "Excuse me, ma'am," he said. "Do you have a dollar or two to spare, so I can buy gas?" One hand gestured toward the nearby gas pumps and the other hand clenched a fistful of quarters. I'd heard him call out to several other folks in the parking lot as I heaved bulging bags of groceries into the trunk of my minivan. I couldn't hear how others had responded to his plea, but I'd listened to his dispirited, "Thanks, anyway," and hoped he wouldn't approach me/Cindy Hval, SR. More here. (AP file photo)
Question: Do you think most panhandlers are really in need? Or simply too lazy to work?
---
---