Thu., Feb. 3, 2011, 1:42 p.m.
'Jeopardy' Question Stumps Molly
Molly Rosenbusch of Twin Lakes, Idaho, will not continue in competition on "Jeopardy." She dominated the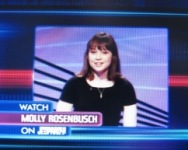 competition through most of the game, but failed to answer the Final Jeopardy question correctly and wagered all that she had (more than $16,000) on the question in the category "U.S. Presidents." Rosenbusch, a current North Idaho College journalism student and Coeur d'Alene Charter Academy graduate, beat a two-day champion to become the returning champion on Feb. 2. Her final winnings total more than $19,000/Stacy Hudson, NIC Press Room. More here.
Question: Are you knowledgeable enough and gambler enough re: U.S. presidents that you'd better $16,000 on an answer to an unknown question about them?
---
---