Mon., Feb. 14, 2011, 1:45 p.m.
Missoulian Designs Bikini For SI Mag
In a story today in the Missoulian, reporter Betsy Cohen tells how persistence on the part of Missoula fashion designer Cat Thordarson landed one of her designs in the upcoming Sports Illustrated swimsuit edition. On a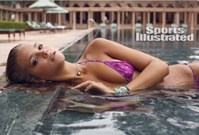 lark, Thordarson took 20 of her swimsuit designs to New York City last summer, where she approached editors of the sports magazine unannounced. It was the last swimsuit among her designs that got her "a piece of the most-coveted real estate in the world of swimsuit design." Thordarson is quoted as saying: "I am so thrilled to have made it into the issue. I've been on the edge of my seat all these months, and I hadn't heard until just recently that one of my suits would make the cut." Thordarson doesn't know which famous model will be wearing her sexy bikini, but it won't be hard to pick out, reports Cohen. The suit pattern is a wild geometric-inspired explosion of neon colors -- and it's tiny. More here. (AP/Sports Illustrated file photo of model Esti Ginzburg for the 2010)
Question: Are you in shape to wear a bikini this summer?
---
---