Mon., Feb. 14, 2011, 1:15 p.m.
NYTimes Looks At MLK Day Bomb Try
William Yardley of the New York Times reports today on the fruitless effort by the FBI to find the individual who planted the sophisticated bomb along the Martin Luther King parade route a month ago in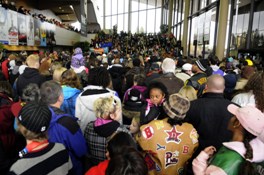 Spokane: "Nearly a month after a cleanup crew found the live bomb along the planned route of a large downtown march honoring the Rev. Dr. Martin Luther King Jr., the F.B.I. is investigating the incident as an act of domestic terrorism. And Spokane has cycled from shock to relief to reassessment: have the white supremacists who once struck such fear here in the inland Northwest returned at a new level of dangerousness and sophistication? "We don't have that kind of intelligence level to make that kind of explosive," said Shaun Winkler, a Pennsylvania native who recently returned to the region to start a landscaping company and a chapter of the Ku Klux Klan." More here. (SR file photo: A rally in Spokane, Wash., on Jan. 17 before a march to honor the Rev. Dr. Martin Luther King Jr. Most people were unaware of a bomb found along the route until later in the day.)
Question: Izzit just me, or does the New York Times appear to have a propensity for tying all things Inland Northwest to the Aryan Nations and related racist groups? Is that fair?
---
---