Mon., Feb. 14, 2011
Should Liquor Stores Open Longer?
Item: Idaho Lawmakers Consider Changing Liquor Sales Rules/Tania Dall, KXLY
More Info: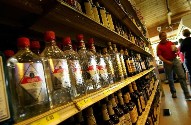 While many states including Idaho are struggling to balance their budgets, Idaho's state liquor division says keeping its doors open longer would mean an extra $2.2 Million in revenue annually. Idaho's state-run liquor stores have seen a 40-percent spike in sales in the last five years. Last fiscal year, it made $47 Million in profit. The state liquor division credits population growth and more choice from manufacturers for the monetary boom. (SR file photo: Brian Plonka)
Question: Should state-run liquor stores in Idaho be allowed to keep their doors open longer to increase tax revenue?
---
---