Wed., Feb. 16, 2011, 12:19 p.m.
High Noon: Tiger Spit Triggers Anger
At Yahoo! Sports, reporter Jay Busbee writes: "You know Tiger Woods hasn't been playing well of late. He had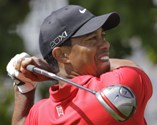 a chance at the Omega Dubai Desert Classic over the weekend before posting a godawful 75, and that was pretty much that. Now, though, word that Woods committed a far greater breach of golf etiquette during the tournament than just, you know, stinking: He spat on the 12th green!" Busbee goes on to quote a stunned commentator who said of Tiger's expectoration: ""Disgusting, what he has just done there ... there are some parts of him that are just arrogant and petulant. Somebody now has to come behind him and maybe putt over his spit. It does not get much lower than that." (AP photo, of Woods at Dubai tourney)
Question: Are you bothered by people who spit in public -- on sidewalks, ballfields, or even on their hands?
---
---