Wed., Feb. 16, 2011, 2:57 p.m.
KXLY: Inmates Raising Kids In Prison
Right now, at Washington's largest corrections center for women, 871 inmates are serving their sentences.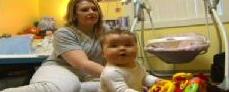 Among them are 8 babies being raised right in the middle of it all. It's a trailblazing program pioneered by Washington and now being adopted in other states. But, is prison a safe place to raise a child? Little Deegan's hands tell so much about the eight-month old boy. He's playful, curious and always reaching out to his mother Sunny."We're all in this and it's hard," Sunny Van Cleave explained. "Deegan makes people happy"/Melissa Luck, KXLY. More here.
Question: Do you support this experimental program?
---
---