Wed., Feb. 16, 2011, 9:49 a.m.
NFL QB, Bucs Coach Met @ Capones
In the current, pre-swimsuit edition of Sports Illustrated, writer Chris Ballard tells of a 2007 meeting at Capones in Midtown between NFL QB Jake Plummer and then Tampa Bay Buccaneers coach Jon Gruden.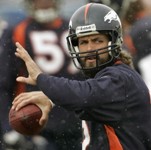 Gruden and his traveling partner, GM Bruce Allen, visited Coeur d'Alene to try to talk Plummer out of retirement. They were carrying two footballs and a pair of new cleats. Ballard continues: "Shortly after 6 p.m. the duo walked into Capone's, a sports bar in Coeur d'Alene where people gather to watch Broncos games, play pool and drink $3 Molsons. Ten minutes later Jake Plummer and his wife, Kollette, walked in. Gruden rose and mustered all of his considerable charm, pumping Jake's hand and telling him how excited he, Jon Gruden, guru of quarterbacks, was to sit down and talk football with Jake Plummer, the ultimate gunslinger. Beers were consumed, pizzas were ordered. By and by, Gruden and Allen made their pitch." Ultimately, Plummer turned down Gruden's $5.3 million offer and now helps coach football at Sandpoint High. SI story here. (AP file photo of Plummer warming up before Denver-Pittsburgh playoff game in January 2006)
Question: Have you ever turned down a good-paying job to pursue a dream?
---
---