Fri., Feb. 18, 2011, 4:23 p.m.
First Lady Defends Luna Ed 'Reform'
Whether you have been at the head of the classroom or in a desk on the other end, you know the importance of quality teaching. It makes all the difference. With the help of a great teacher, a struggling student can excel.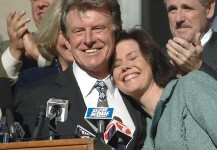 Under an ineffective teacher, that student may never catch up. We know this from our own school experiences, as well as extensive research. The teacher is and always will be the most important factor in student success. If we truly want to put students first, we have to make sure we invest in Idaho's teachers. That's exactly what the Students Come First plan does. As a former teacher, I am excited about the possibilities this plan provides for great teachers now and in the future. Some have claimed this plan "devalues teachers." That couldn't be further from the truth. It's the only option that actually invests in teachers/Lori Otter, Office of the First Lady. More here. (AP file photo of Gov. Otter and Miss Lori)
Question: Why do you think proponents are rolling out the heavy hitters like First Lady Lori Otter to defend Tom Luna's radical education "reform" plans? After all, they're winning the legislative battle.
---
---