Fri., Feb. 18, 2011, 1:15 p.m.
Narnia Producer Moore Found Dead
Perry Moore, the executive producer of the 'Chronicles of Narnia' trilogy, was found dead in his New York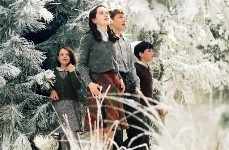 apartment, the New York Daily News is reporting. He was 39. Sources told the newspaper that Moore was found unconscious by his partner, Hunter Hill, in the bathroom of their Soho home on Thursday after an apparent overdose of OxyContin. He was pronounced dead soon after responders arrived. "We're in shock," Moore's father, Bill, told the Daily News. He added that when he spoke to his son just the night before, he was in a "great, great mood"/Huffington Post. More here. (AP file photo)
Question: Are you a fan of the "Narnia" movie trilogy or C.S. Lewis' books?
---
---