Thu., Feb. 24, 2011, 5:40 p.m.
Bill Would Allow Firms To Buy Bus Ads
A bill to allow corporate logos and other business advertisements to adorn black-and-yellow school buses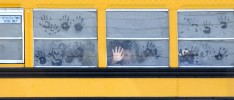 that carry Idaho children to classes has moved to the Senate floor. The Senate Education Committee on Tuesday advanced the bill that was introduced earlier this month by Republican Assistant Majority Leader Chuck Winder of Boise. Lawmakers contend the ads are needed to offset the state budget deficit that will require nearly $92 million in cuts to Idaho agencies next year/Associated Press. More here. (AP file photo of Rexburg school bus, for illustrative purposes)
Question: Do you think corporations should be allowed to advertise on school buses?
---
---