Fri., Feb. 25, 2011
High Noon: Worse Than 'Dracula'?
On his Facebook wall, SR colleague Joe Butler drew attention to one of the arguments made this morning in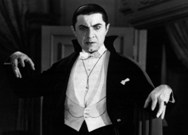 the Senate State Affairs hearing about unilateral "nullification" of federal health care reform. According to Betsy Russell/Eye On Boise, pro-nullificaiton speaker Thomas Rogers of Nampa told the panel, "This is going to create a monster. It's going to be worse than Dracula." He urged the senators to "drive a stake through its heart," and said, "If the government will just get out of the way, we can do a better job." As someone who has just read Bram Stoker's original "Dracula," I understand what passionate Rogers is saying. He's horrified by so-called "Obamacare."
Question (from Joe Butler): Are there things that are worse than Dracula?
---
---