Fri., Feb. 25, 2011, 2:50 p.m.
Idaho No. 2 Most Conservative State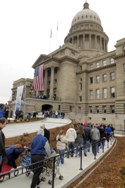 Mississippi is the most conservative state in the nation, a new Gallup poll finds. According to the study, 50.5 percent of the state's residents identify themselves as holding conservative political beliefs, the first time that a state has gone over 50 percent and the highest overall number that Gallup has found in similar polls. Idaho clocked in at second with 48.5 percent identification, and Alabama third with 48.3. The top ten most conservative states all had conservative identification numbers of 45 percent or higher/Huffington Post. More here. (AP file photo of renovated Idaho capitol building)
Question: Are you surprised that Mississippi is ranked as more conservative than Idaho?
---
---