Mon., Feb. 28, 2011, 1:12 p.m.
Baseball Legend Duke Snider, 84, RIP
The 1955 Dodgers are the team the legend is built around: starting the season 22-2, coasting to the National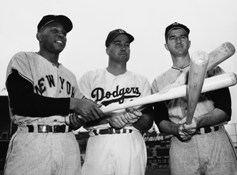 League pennant and winning Brooklyn's only world championship. But centerfielder Duke Snider, who died Sunday at 84, believed that wasn't the best team the "Boys of Summer" ever fielded. That distinction, Snider said, went to the 1952 club that lost to the New York Yankees in the World Series in seven games. "I think the '52 team was the best team I played on," Snider told USA TODAY in a 2008 interview. "We were solid at every position -- Andy Pafko in the outfield, Billy Cox at third base. Outstanding pitching. ... We were just solid all the way through"/Mike Dodd, USA Today. More here. (AP file photo of, from left, Willie Mays, Duke Snider, Don Mueller)
Raymond Pert: (Duke Snider) managed the Spokane Indians in 1965 and so his death is of local, not only national, interest. Dad and I used to go to games at the Fairgrounds every summer. I was 11 years old in the summer of '65 and seeing Duke Snider come out to home plate with the lineup card took my breath away. I couldn't believe such a great player was right there in Spokane for all of us to lay our eyes on.
Question: Have you ever read Roger Kahn's "The Boys of Summer" re: the 1955 Brooklyn Dodgers? Is there a better baseball book?
---
---