Mon., Feb. 28, 2011
NIC's Jones Supercharges Evening
There's not much room for irony in wrestling – just you and the other guy, a mat, 7 minutes, will and fatigue.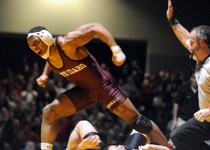 OK, not always 7 minutes. Sometimes 7 seconds. That's all the time that elapsed from the moment Walker Clarke dared initiate the move he had to think might jump-start him toward a second national championship until he found himself on his back, immobilized, marooned without rescue, saddled with one of those oh-dammit flashbacks that may take a while to lose. It's all the time Jamelle Jones required to turn a rather humdrum final round of the National Junior College Athletic Association wrestling championships into something electric, and borderline breathtaking/John Blanchette, SR. More here. (SR photo/Jesse Tinsley: Jamelle Jones of NIC wins national wrestling championship.)
Question: Which sports moment this winter has thrilled you most?
---
---