Mon., Jan. 17, 2011, 9:15 a.m.
Local Man Sheds Pounds, Eyes Ironman
A dramatic lifestyle change has melted 78 pounds off Tom Aylward's 6-foot-4-inch frame and introduced him to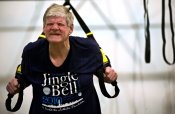 healthy eating habits for the first time in his 62 years. Fifteen months ago, the Spirit Lake man weighed 319 pounds and couldn't walk upstairs without losing his breath. Stepping on the scale made him feel bad about himself. Now the retiree has completed three sprint triathlons, the Coeur d'Alene Triathlon and the Spokane half-marathon. Each accomplishment moves him a step closer to his goal: finishing Ironman. The day after the 2010 Ford Ironman Coeur d'Alene, Aylward signed up for the 2011 race. It includes a 2.4-mile swim, a 112-mile bike ride and a marathon – 26.2 miles/Alison Boggs, SR. More here. (SR photo: Kathy Plonka)
Question: How is your New Year's resolution to lose weight going?
---
---