Sat., Jan. 22, 2011, 9:55 a.m.
Mystery Surrounds Jackpot Winner Lahti
Holly Lahti burst into the spotlight a week ago in a feel-good story about a single mother who won a $190 million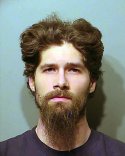 Mega Millions jackpot. Then came the mugshot: a thin young woman with disheveled brown hair, sporting a black eye and cuts and bruises on her face and neck. It turned out she was separated from a man who court records indicated had abused her, and now has a possible claim to some of the money through a quirk in Idaho law. Lahti, 29, went underground with her two daughters immediately after learning she had won half of a $380 million jackpot in the Jan. 4 drawing. She has not been seen or heard in public since, though she has posted a message to her suddenly large group of Facebook followers/Associated Press. More here. (Booking photo of Holly Lahti's estranged husband, Josh)
DFO: Several of the commenters objected to the booking photo of a beaten Holly Lahti being shown on the front page here. So I've substituted a booking photo of her husband, Josh Lahti. Holly Lahti's photo can be seen with the AP story that I linked to.
Question: What do you make of the mystery surrounding Holly Lahti since she won her Mega Million fortune?
---
---