Seasons Opens In Old T.W. Fisher's
Looks like Pepper Smock has launched his Seasons of Coeur d'Alene Fresh Grill & Bar in the old T.W.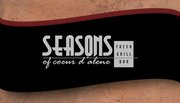 Fisher's building (209 Lakeside, across from the Coeur d'Alene Press. In a news release, general manager Nancy White reports that Seasons opened "in time for 4th of July revelers to explore the casually sophisticated dining room, bar, and patio." The chef is Scott Miller, who will focus on traditional specialties like Peppered Bistro Steak, Kobe Pub Burger, and Short Rib Pasta, as well as seasonal fare. Dining room seats & open bar each seats 100. Restaurant is open daily for lunch, 11 a.m. to 4 p.m.; dinner from 4 p.m. to 1 a.m.; bar menu till 11 p.m.; and bar until midnight. Full news release here.
Question: Do you plan to try out Seasons soon?
---
---