Duncan Competency Hearing Ordered
Oopsy: AP had reported that the 9th U.S. Circuit Court of Appeals had thrown out the death penalty against Joseph Duncan. Although that eventually could happen, it's more nuanced than that.
The 9th Circuit U.S. Court of Appeals has ordered convicted child-killer Joseph Duncan back into court in Idaho, saying a federal judge should have ordered a competency hearing before allowing Duncan to waive his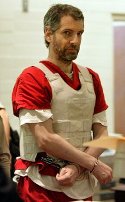 appeal of his death sentence. The appeals court today ordered U.S. District Judge Edward Lodge to hold a competency hearing to determine if Duncan was competent to waive his right to appeal his death sentence. If the answer is yes, then the death sentence will go forward. If not, the federal court in Idaho would have to "proceed to determine whether Defendant competently waived his right to counsel before the penalty phase hearing." If it then finds that he wasn't competent to do that, it would have to "vacate Defendant's sentence and convene a new penalty phase hearing with Defendant properly represented." That would mean a rerun of Duncan's entire sentencing trial in federal court in Boise for his deadly attack on the Groene family of North Idaho/Betsy Russell, Eye On Boise. (And: Betsy Russell's link to full ruling)
Question: Does this ruling diminish your faith in this country's judicial sentence?
---
---