KT: Worst News For Soldier's Family
KT (re: 2 Coeur d'Alene Guardsmen killed in Iraq): Our family and the families of the men and women of the 116th have been living this nightmare since Thursday afternoon when word of the bombing reached the US.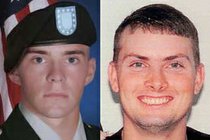 While the AP stories reported the roadside bomb and the two fatalities without any identifyers, we knew they were from our local unit due to personal communications. My sister is relieved and grateful her son, my nephew, is okay. He's a machine gunner as was Nick Newby (above left, with Nathan Beyers). Along with the relief is incredible sadness that another mother, two mothers, received the kind of news that all family members of active duty soldiers fear hearing. Also catastrophically wounded in the bombing is SSgt. Jason Rzepa. His wife, Cassandra is an employee of the Idaho Army National Guard in Family Assistance whom I met four years ago. She and Jason have a two-month old baby. Jason has lost both legs below the knee and is recovering in Germany. He's 30.
Cards or notes of condolences can be mailed to the families of each c/o Idaho Army National Guard, E. 5453 Seltice Way, Post Falls, Idaho 83854.
---
---