Tue., July 26, 2011, 9:06 a.m.
Panel OKs Plan To Cut Dike Trees
Before it can compromise, the city of Coeur d'Alene will likely comply. A subcommittee recommended Monday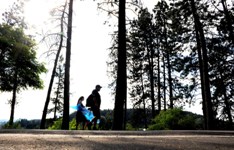 the City Council adopt a mitigation plan to begin removing vegetation and addressing other concerns regarding the levee along Rosenberry Drive in response to the U.S. Army Corps of Engineers' March order. "I don't love it," said Deanna Goodlander, City Council and Public Works Committee member, on moving forward with the plan. "I don't even like it." The Public Works Committee recommended the City Council adopt the mitigation plan during its Aug. 2 meeting, saying the city's hands were tied because of possible insurance increases for the surrounding neighborhood should it not adhere to the changes/Tom Hasslinger, CdA Press. More here. (SR file photo)
Question: Are you surprised that the city is rolling over on this one?
---
---